Colloid Mill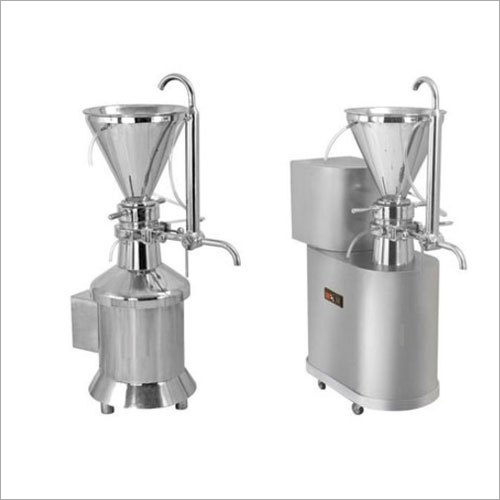 Colloid Mill
Price And Quantity
, Unit/Units

50000.00 - 150000.00 INR
Product Description
Colloid Mill

Colloid Mill is a high speed rotor-stator blender which is used to reduce the size of solid particles relatively to the size of droplets that are suspended in a liquid, when it is mixed with another fluid which is immiscible to make emulsions and dispersions. It is provided with an inlet hopper, rotor and stator assembly which applies greater shearing force and an outlet discharge vale fitted tube. Colloid Mill can be used in various applications such as pharmaceutical ointments, colloidal suspensions, chemical and various types of substances used in food and beverage industries. It can also be used in industries like cosmetics, paints, textiles, paper and many other.
homogenizing, emulsifying, dispersing, mixing, extracting etc., catering to the needs of several industries; such as
Pharmaceutical Industry

Food, Dairy, Confectionery Industry

Chemical Industry

Paint Industry

Textile Industry

Cosmetic And Detergent Industry

Rubber Industry

Starch Industry

Paper Industry
The product is subjected to high shearing, cutting, and rubbing forces between two toothed surfaces. The product, while passing down the hopper, initially gets sized in the preliminary breaking drum where it is broken and thrown into the first stator tooth stage. Due to conical arrangement and the centrifugal effect of the rotor rotating at a speed of 2800 r.p.m., the material is forced into second tooth stage. The tooth design of the grinding set causes powerful transients that subject the particle with high forces, Intensity of which increases as product reaches the lowest grinding stage. The ground material continuously leaves the mill through the outlet pipe and if required, can be recirculated. Outstanding and rigid design and construction combined with excellent quality of workmanship ensures superior end product, suitable for continuous operation over long periods of time.
Specification
| | | |
| --- | --- | --- |
| Model | CM3 | CM5 |
| Output* | 150 to 1500 lit/min | 150 to 1500 lit/min |
| Motor | 3 HP | 5 HP |
| Min. Gap | 0.5 mm | 0.2 mm |
| Particle Reduction | < 30m | < 10m |
| Floor Space | 43 x 76 cms | 43 x 76 cms |
| Weight (Net / Gross) | 140 / 230 kgs. | 150 / 240 kgs |