Fluidized Bed Dryer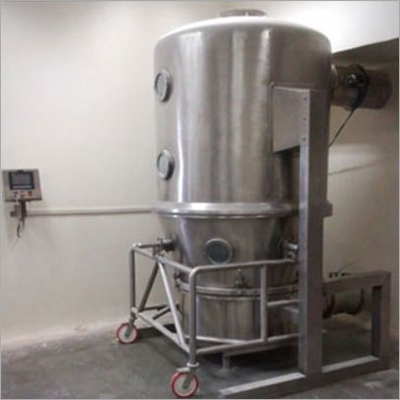 Fluidized Bed Dryer
Price And Quantity
, Unit/Units

40000.00 - 80000.00 INR
Product Specifications
Product Description
Fluidized Bed Dryer

Fluidized Bed Dryer is an insulated heating chamber which helps to reduce the moisture content of pharmaceutical powder and granules. It works on a principle of fluidization of the feed materials by allowing a gas to flow through the bed of solid particulates at a greater velocity tha settling speed to partially suspend the particles in the stream moving upwards. Fluidized Bed Dryer availed by us is equipped with a series of components such as air preparatory unit, product container, exhaust filter, blower, control panel, distribution plate, spray nozzle etc. It can also be used in other industries like chemical, food, dairy, metallurgical, dyes and many other.
FBD-Applications: Pharmaceuticals Chemicals Food Products
FBD-Salient Features:
Better productivity and lesser drying time.

Less handing, more hygienic.

Uniform drying at low temperature.

Pneumatic sealing for higher capacity models.

Static grounders to eliminate electro-static charge

Product container with tilting arrangement.

Flame proof models also available.

Models available from 2 Kg. To 300 Kg
Description
A Fluid Bed Dryer with latest improvement in design make this unit a truly versatile one for pharmaceutical, food, dyestuff, chemical and polymer industries. All contact parts are made out of S.S.304/316 and are provided with isolated control panel.
Operation
Due to induced draft created by specially designed heavy duty fan the atmospheric air is drawn through the 5 micron air filter. The filtered air is then to the required temperature by electric heaters / steam radiator. The hot air passes through the product container and the product gets dried by Air fluidisation and the air control circulation by damper. The filter bag prevents fine particles from carrying over to exhaust air steam.
Selection
Selection of capacity of fluid bed dryer depends upon bulk density, drying temperature and moisture contents of wet material to be dried.
In case of 120 kg model a batch of 145 kg wet material can be loaded provided the bulk density of the material is 0.6kg/lit. (approx)
Optional
Digital temperature controller cum indicator for steam operated dryer.

Pneumatic bag shaking device.

Intrinsically safe earthing system.

Bottom & rear chambers made our of S.S.-304 quality

Flame proof Motor with push button station.

Available in GMP / S.S. Models
The principal of FBD is drying with hot air while the powder is being fluidized.
The Fluid Bed Dryer has a bed of solid particles which are fluidized by passing a stream of air upward through a specially designed perforated sheet. The upward velocity of air is so maintained so as to slightly lift the solid particles and set them in motion. This motion can be utilized to bring about mixing as well as forward movement of the solids particles. The air is heated and the hot air evaporates the fluid and dries the solids.
The uniform drying is achieved by exposing the full surface of every particles of the solid mass to the incoming high velocity hot air.